Popular This Week
#37 | Jenny & Scott Jurek On The Appalachian Trail Speed Record, Parenting, And What's Next
Backpacker Radio
In 2015, Scott Jurek was the most talked about person on the Appalachian Trail, even the trail community at large.  As soon as the legendary ultrarunner announced that he was bringing his talents to Appalachia, a flurry of fanfare and press followed suit.  Though his record has been broken a pair of times since, the swell of attention has yet to be matched.  Today Jabba and Badger sit down with Scott Jurek and his wife and head crew member, Jenny Jurek, to learn about this FKT, what the undertaking was like from each of their perspectives, how it's prepared them for parenthood, their new book "North: Finding My Way While Running the Appalachian Trail", and much more. We also get an introduction to our newest Thru-Hiker of the Week, "Sochi", who's attempting to become the first amputee to thru-hike the Pacific Crest Trail.
Subjects discussed in the episode include: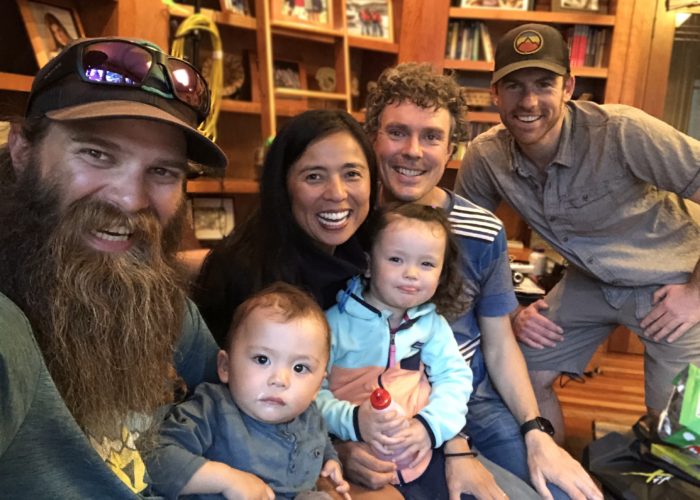 Subjects discussed in today's interview:
Have any praise, questions, praise, comments, praise or praise for Backpacker Radio?  Reach out to podcast@thetrek.co.
Subscribe to this podcast on iTunes (and please leave us a review)! Download this podcast.  Find us on Stitcher and Google Play.
A super big thank you to our Chuck Norris Award winner(s) from Patreon: Michael W Hinkley, S11N, Sawyer Products, and Travis Smith
A big thank you to our Cinnamon Connection Champions from Patreon: Gregory Gardner and Peter Leven
Follow Scott Jurek, Jureks on the Run, The Trek, Chaunce, Badger, and Trail Correspondents on Instagram.
Follow The Trek and Chaunce on YouTube.
Follow Scott Jurek, The Trek, Backpacker Radio, and Chaunce on Facebook.
Follow The Trek on Twitter and sign up for our newsletter.
Intro music via.
Updated on June 18
Key points in this episode
Are there other forms of cheating found in the sport ?
Will Scott be back on the trail anytime soon?
How was the book writing process for Scott and Jenny?
As a lifelong athlete and competitor, has Scott done anything on a high level, competitive degree since the AT FKT in 2015?
What advice do Scott and Jenny have regarding their lifestyle and entering parenthood?
What does Scott and Jenny's active lifestyle look like with balancing parenthood ?
What are some other trails that have peaked Scott's interest that he hasn't had the opportunity to hike yet ?
Are there other forms of cheating found in the sport ?
Do women participate in ultrarunning as well ?
How did the "Eat and Run" and "Born to Run" books change Scott's life?
What is Scott's new book?
What did Scott anticipate he would be doing career-wise?
What is attractive about the ultrarunning sport?
What sports are the Jureks hoping their children will try?
Do you lose your mind during long ultra races?
When did ultra running turn into a feasible career?
What are ultra running prize packages like today?
How do athletes make money if they are not paid for races?
What does Scott think about the Eastern States 100 race?
How did Jenny and Scott Jurek first meet?
Has the ultra running world changed in the last decades?
Is there any drug testing in the ultra running sport ?
What injuries did Scott endure on his Appalachian Trail hike ?
What is the normal amount of time needed to recover from the issues he was dealing with ?
Regarding marriage, what was the expectation for what this time on the trail would look like as Jenny followed along in a vehicle ?
What is Scott's personality and how did that translate into the hike ?
What was the experience like for Scott as an inspirational figure for others?
Scott went northbound on the trail instead of southbound, which is what the FKT is built for. In hindsight, would he have still gone backwards ?
What advice would Scott offer to someone who wants to go after an FKT trail?
How much weight did Scott lose on the trail ?